APRIL BALL - HOSPITAL DIRECTOR, OWNER
In the field since: 2003
Owned by: 3 dogs, Molly the old beagle, Gracie the 3 legged wonder, and Soldier a huge wild thing found roaming the woods.
What I love most about what I do: I love educating people on the importance of preventative medicine, so much of the heartache we see could have been prevented! I like working with people in challenging situations to find the best resolution. I've got a soft spot for the big dogs. I also love working with dogs that may be scared or act aggressive when coming to the vet's office - with the right handling it is rewarding to watch them learn to trust us.
Who I am when I'm not at Davis Animal Hospital: a New Hampshire native, a fun-loving wife and mom to two little kids. I love riding horses, goofing off and spending time with my family. Together we enjoy the outdoors and traveling to find new adventures. We love our church, the beach, watersports, hiking and spending time visiting with our widespread family. I'm an avid fitness geek and passionate about our Davis Fitness Challenge we sponsor for our staff!
You would be surprised to know that: I am more afraid of an aggressive kitten than a 180 pound snarling Rottweiler!
SAVANNAH ELLIS - ASSISTANT MANAGER, VETERINARY ASSISTANT, HOTEL CONCIERGE
In the field since: 2016
Owned by: 4 dogs, 2 cats, a ball python, and a 5 year old.
What I love most about what I do: Meeting new people and pets. Learning something new every day and the exotic patients are always a fun learning experience! I enjoy being able to do a little bit of everything and become more experienced at what I do.
Who I am when I'm not at Davis Animal Hospital: I am a wife, mother, and zookeeper.
You would be surprised to know that: I love to read all different genres of books. Cleaning is so deeply satisfying. Sleeping should be a sport, because I could be a successful athlete if it were. Spiders give me the heebie jeebies.
Dr. Ashley Virgilio was raised here in Pensacola and completed her undergraduate education at UWF, where she majored in Biology. Dr. Ashley is a 2015 graduate of the UF College of Veterinary Medicine and spent a year practicing in Connecticut prior to joining the team at Davis Animal Hospital. Her professional interests include preventative care, feline medicine, and dentistry. She believes that communication is the most important aspect of veterinary medicine and enjoys working with clients and associates to provide the best patient care possible. Dr. Ashley is currently owned by Oliver and Oscar, Jules and Nigel. In her spare time she enjoys listening to live music, playing tennis, and watching funny cat videos online.
Dr. Amberly Sokoloff is originally from Pennsylvania, where she graduated from the University of Pennsylvania School of Veterinary Medicine in 2008. She then completed an internship in small animal medicine and surgery at a large practice in Delaware. She then moved to California to pursue a 3-year residency in Avian and Exotic Pet Medicine and Surgery at UC Davis, which she completed in 2012. Since then Dr. Sokoloff has been in private practice providing care for dogs, cats, birds, reptiles, ferrets, rabbits, guinea pigs, rats and other small mammals, and even fish. She also volunteers with wildlife rescue organizations, including the Emerald Coast Wildlife Rescue. She has co-authored several papers and has given continuing education lectures on avian/exotic topics for both veterinarians and veterinary technicians. Outside of work Dr. Sokoloff's primary passion is music – she plays the piano, violin and sings.
Dr. Missy was raised in a suburban household that included up to 8 adult Siamese cats, numerous kittens, 3 dogs, gerbils, hamsters, rabbits, fish, birds, her sister's snake and (off-site) 3 horses.
She received her DVM degree from the Virginia-Maryland Regional College of Veterinary Medicine in 1993.
After practicing in North Carolina for 3 years and California for 7 years, she settled in the Pensacola, FL area in 2003.
She and her husband, Tom, are currently owned by 7 cats: Echo, Buzz, Mouse, Tess, Ivy, Belle, and Pan.
Her professional interests include internal medicine, radiology and feline medicine. She is an avid reader and enjoys puzzles and roller coasters.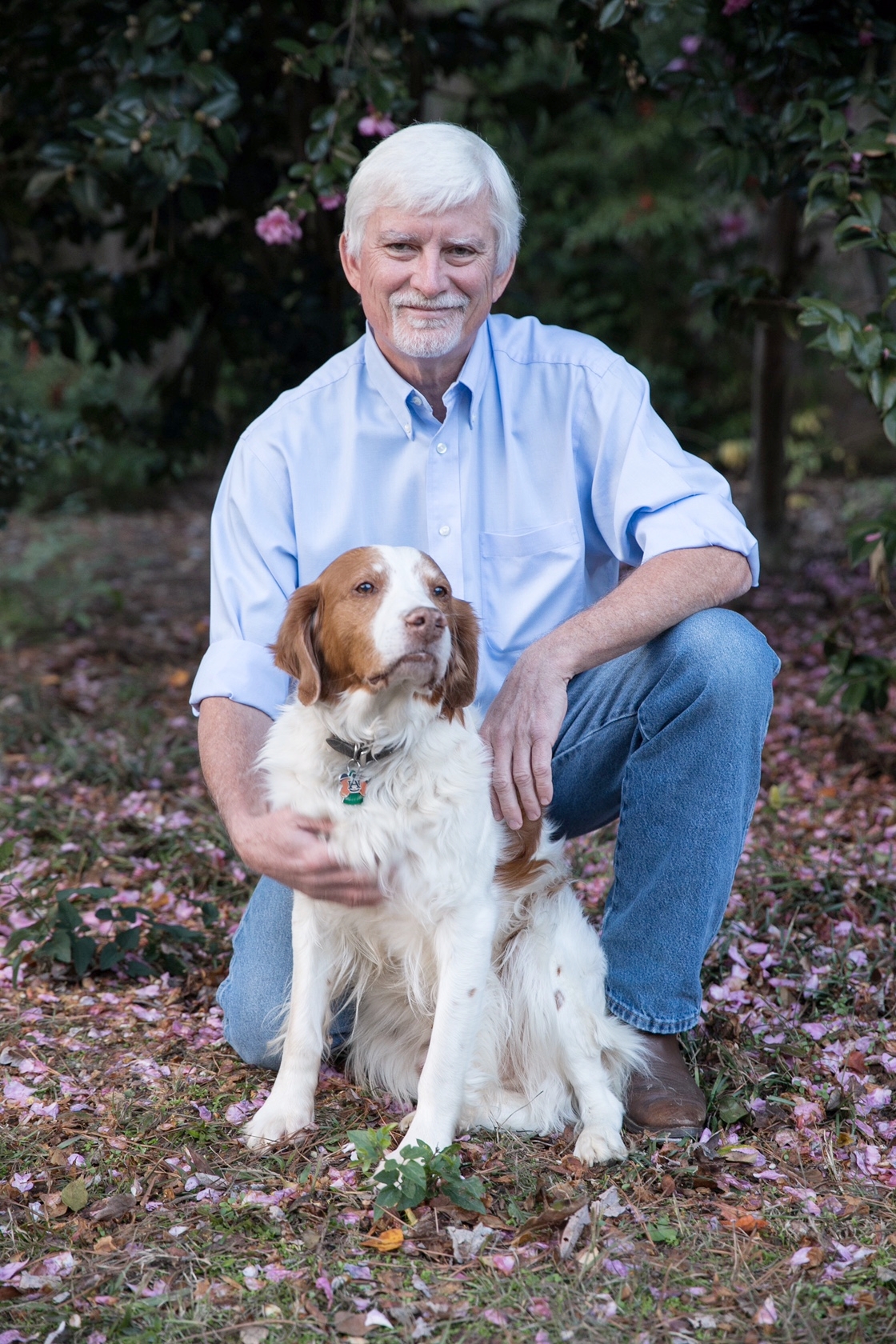 Dr. Montgomery earned his DVM, (cum laude), in 1982 and M.S. (Thesis on CCL Rupture) in 1987, both from Auburn University. He became a diplomate of the American College of Veterinary Surgeons in 1988.
After brief faculty appointments at U.A.B. Medical School and Mississippi State College of Veterinary Medicine, Dr. Montgomery returned to Auburn in 1990 where he continuously taught and performed surgery until 2015. While there, he served as chief of surgery, director of the Southeastern Raptor Program, was voted Teacher of the Year, and awarded the Bruce Pratt distinguished Professorship.
He has authored 53+ refereed or invited scientific publications; 34 proceedings and abstracts; and has had over 50 contracts and grants. Dr. Montgomery has chaired committees for the American College of Veterinary Surgeons Symposium (1996, 1997), A.C.V.S. Program (1994, 1995), and the A.C.V.S. Exhibits (1993).
His research interests were Orthopedic Implants and Physical Therapy. Research awards include the Albert Triat Award, International Knee Society co-author. He did his Master Thesis on Cruciate Ligament Rupture.
Upon his retirement from Auburn in 2015, Dr. Montgomery was voted Professor Emeritus by the faculty and administration. He now performs surgery three days a week with his friends at Davis Animal Hospital in Pensacola, FL.
Dr. Montgomery is available for soft tissue and orthopedic surgical cases as well as lameness evaluations and medical management consultations on a referral only basis. Examples of some of the procedures performed at our hospital include: Stem cell and PRR therapy, TPLO, patella luxation stabilization, fracture repair, mass removals, OCD, FCP – via arthroscope, FHO, biceps tendon release, exploratory surgery, joint surgery, arthrodesis, biopsies, foreign body removal, TECA, amputation, and more.
Who I am when I'm not at Davis Animal Hospital: Dr. Montgomery enjoys his family, fishing, college sports, and travel. He has dogs, cats, and horses.
You would be surprised to know that: I flew eagles at Auburn home games while director of the Raptor Center.
In the field since: 2011
Owned by: 3 cats, a tortoiseshell, Emma, my two orange babies, Cider and Seville, and a scary smart border collie, Zoey.
What I love most about what I do: What I love most about what I do: I absolutely love learning new and interesting things about animals. Every day, it seems like I learn something that I did not know before. I love helping pets and seeing the impact that our job is making on them.
Who I am when I'm not at Davis Animal Hospital: I graduated from the University of West Florida in May 2015 with a Psychology degree. I am a caring best friend, loving daughter, and annoying little sister. I have been to Italy, Switzerland, Germany, France, and planning on traveling a lot more in the future. I am an Alpha Delta Pi sorority alumna and take part in events when I can. I love going to the beach and hanging out with my friends and family doing whatever we can as long as we are all together. Currently taking classess with Penn Foster to get certified as a veterinary technician and planning to go to University of Tennessee to become a Certified Canine Rehabilitation Practitioner.
You would be surprised to know that: You would be surprised to know that: I had back surgery when I was 21 and still roll around with your pets all of the time! :)
In the field since: 2016
Owned by: 2 cats, Monkey and Rugrat
What I love most about what I do: Knowing that I have helped animals.
Who I am when I'm not at Davis Animal Hospital: Love being outside.
You would be surprised to know that: I can sew and like to can fresh produce.